Ship/Yacht automation and fire alarm
Increasing security of yacht is the most essential feature of a yacht automation system. Because, the compatibility of fire alarm is one of the most important and indispensable feature of a Yacht automation.
Phoenix V2, Fire Alarm Panel features
The Phoenix alarm system supports up to 252 fire/smoke detectors in a single panel. This amount is more than enough for many boats and yachts. By installing an 8-panel structure on very large ships and yachts, the 2016 detector can be easily addressed.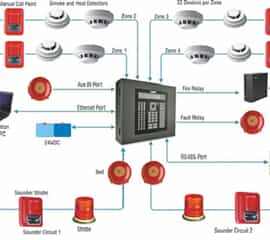 Phoenix V2 not only alerts you in case of alarm. At the same time, it reports to the electrical faults that may occur in the detectors. Rina complies with certification processes. You can safely use it on your boat.

Integration with Automation & Software
Bustron yacht and ship automation system is integrated into Phoenix fire alarm panels. It is in constant communication with the panel and visualizes the status of the sensors. It allows you to follow up on a screen and from your mobile phone.
It generates siren sound in case of emergency or optionally can call you by phone.

Other Fire Alarm Panels
Our automation system can also work with all similar panels with technical competence. You can find detailed information about our yacht and ship automation by clicking here
Back To Pages